Kettlebells is King in the gym if you use to be its best potential. It been over 6 years consistently we are advocating Kettlebell workouts in various clubs, gyms and corporate. We specialize in Kettlebell training & strength and conditioning workouts only. We experienced a lot of gym owners spend a lot of money on interiors, non-required machines, but hesitate to spend money on correct selection of Kettlebells if they choose to keep in gym. We have highlighted different type of Kettlebells used in gyms its merits or de-merits.
Many personal training studios use non-standard kettlebells to save the cost and eventually don't find great use of the tool. The workout hampers only if you don't use the correct equipment, but on flip side if you use correct equipment by upgrading knowledge it can be much useful. Below article highlights different types of Kettlebells available in market and choice you can make.
Casting Kettlebells:
The casting bells are standard Kettlebells which are easily available. Different sizes are created with different dimensions. The heavier the kettlebell, the larger it is. The lighter the kettlebell, the smaller it is. The actual bell weight varies in size dramatically, but there is often a difference in the handle diameter and width, too.
Casting Kettlebells which are rubber coated may create problems for wrist as rubber on handle causes "step" (on horn of Kettlebell) which is painful for wrist while doing Kettlebell cleans it causes bruise to wrist and can be painful.
Steel handle Kettlebells :
These kettlebells don't have abrasion on handle which does not gives a good grip also rubber on kettlebell causes "step" (on horn) which hurts wrist in lifting so these Kettlebells too are not useful for better Kettlebell lifting.
Flat shape Kettlebells :
Flat shape kettlebells are fancy make and really not great from lifting stand point as the design being cumbersome. The flat shape on Kettlebells creates problems on wrist while racking the bells for cleans. If the exercises are limited then the usage to hampers.
Plastic Kettlebells :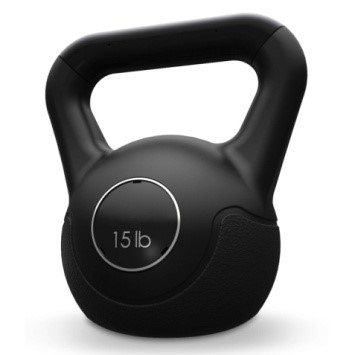 Plastic bells are non-standard kettlebells & do not suffice the need as the design is absurd. Handle diameter throughout the length varies and plastic material does not absorb palm sweat. Design is non-standard and not recommended for training as it can cause injuries.
Professional grade Competition Kettlebells:
In competition Kettlebells the dimensions are identical among all the different weights. A 12 kg kettlebell is the same exact size and shape as the 32 kg kettlebell, so is every other size in between, international colors indicate the sizes, like 16kg is yellow always; 12kg is blue and 8kg pink and so on.
Biggest advantage is consistency in your kettlebell practice. To maximize your results, and to achieve a high level in any physical activity or sport, you need consistency in your equipment selection. Imagine how hard it would be to learn and practice sports like basketball or golf if the ball size was different every time you played. That's why the equipment used in all major sports is standardized, and the same should be true of kettlebell training, whether for competition or not.
As your skill with the competition kettlebell improves and you are able to lift heavier weights, the kettlebell size and shape remains the same. This allows you to hold it in your hand the same way, and to rest it against your body (in rack) the same way.
When you use a cast iron kettlebell, your alignment and technique is different from weight to weight out of necessity. You cannot use the same exact alignment and technique when using different sized and shaped kettlebells. In order to maximize your results, your lifting technique and alignment must stay the same when upgrading to a heavier kettlebell.
So in order to make things easier and focus on lifting heavier, for developing strength – endurance, competition bells are much preferred once. The only de-merit of Competition Kettlebells are those are little expensive as compared to other Kettlebells mentioned. I feel it's good investment as these Kettlebells can be used by next few generations and it doesn't get worn-out.
At last if you're personal trainer is not certified in Kettlebell lifting, he will not only know the benefits of Kettlebells, but sure to mislead on cheap or non-standard Kettlebells.
Get yourself a Certified Kettlebell Instructor, to know the correct lifting, science, benefits and lots more.
Be Kettlebell Strong!